Wednesday, September 11
12:00 pm - 1:45 pm
Salute to the Leadership Luncheon & Workforce Innovation Awards with U.S. Department Of Labor UI State Performance Excellence Awards
Grand Ballroom A (Mezzanine Level)
Description
NASWA Workforce Innovation Awards & Salute to Leadership
Salute to Leadership
Recognition of the 2019 Association Year NASWA Board of Directors and Committee Chairs. *Board of Directors and Committee Chairs please take your assigned luncheon seats in front of stage.
State Excellence Award
Honors a state for a workforce related program, project, or initiative, which addresses an issue or challenge, and results in significant improvement of a service or performance.
National Business of the Year Award
Recognizes a small, medium or large business that demonstrates outstanding accomplishments resulting in a positive impact on its workforce industry and community. Additionally, a significant part of the recognition for this award I based on the business' support and use of the state public workforce system.
---
Unemployment Insurance Performance Excellence Awards: U.S. Department of Labor
The UI Performance Excellence Awards are presented to the top performing state workforce agencies nationwide in key areas of UI operations: Benefit Payments, Appeals, Tax Operations, and Integrity.
---
LUNCHEON EMCEE
Anna Hui, NASWA Board President (2020 Association Year) and Director, Missouri Department of Labor and Industrial Relations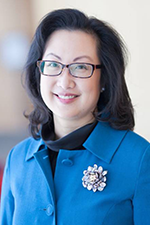 Anna Hui was appointed Director of the Department of Labor and Industrial Relations in March of 2017 and the Senate confirmed the appointment in January 2018. Making her the first Asian American to serve in the governor's cabinet in Missouri history. For over two decades, Anna has worked in numerous senior positions in both state and federal government.
Anna started her public service career working for Illinois Governor Jim Edgar as the Special Assistant to the Governor for Asian-American affairs and then for Governor George Ryan, as a senior-member of the Washington, D.C. policy management team. She then served as the Associate Deputy Secretary of Labor at the U.S. Department of Labor during President George W. Bush's Administration. In that role, Anna spearheaded efforts to encourage diversity and the inclusion of historically underserved communities in the Department's programs and Federal government management.
After leaving federal service in 2009 and until she returned to Illinois in 2015, she was Chief of Staff to former U.S. Department of Labor Secretary Elaine Chao. From 2015 to 2017, Anna served as Assistant Director and later as Acting Director of the Illinois Department of Labor, where she implemented major reforms in process and program efficiency and effectiveness.
Anna received a J.D. from Loyola University Chicago School of Law, a M.S.M. and a M.B.A. from the University of Maryland University College (UMUC) and B.S. in Psychology from the University of Illinois at Urbana-Champaign (UIUC). In April 2018, she was named the recipient of UIUC's Outstanding Asian American Alumni Award from the Asian American Cultural Center for her dedication to public service.
Currently, Anna serves as the President of the National Association of Government Labor Officials (NAGLO); President-Elect of the National Association of State Workforce Agencies (NASWA) and sits on the NASWA Information Technology Support Center (ITSC) Steering Committee; She is a board member of the International Association of Industrial Accidents Boards and Commissions (IAIABC); Board member on the Family and Community Trust; and a graduate of the Missouri Chamber of Commerce 2018 Leadership Missouri Program.
NASWA AWARDS PRESENTED BY
Jon Pierpont, NASWA Board President (2019 Association Year) and Executive Director, Utah Department of Workforce Services
Jon Pierpont was appointed executive director of the Utah Department of Workforce Services in December 2012. Pierpont oversees a $1.5 billion budget and a department tasked with administering federal and state programs, including workforce development, eligibility services, public assistance programs and unemployment Insurance.
Pierpont has over twenty years of public service experience with DWS and has served in roles overseeing several agency initiatives. Prior to serving as the executive director at DWS, Pierpont served as the deputy director, eligibility services division director and director of the department's largest service area. In these roles, he has helped DWS lead the state in cost savings and efficiencies through the creation of an agency-wide throughput operating strategy. Under Pierpont's direction, DWS has saved more than $33 million and continues its commitment of efficiency and effectiveness in state government. He has also served in the statewide initiative to end homelessness and has received awards for these efforts. Additionally, Pierpont continues to be integral in serving Utah's refugee community, currently serving as chair of Utah's Refugee Advisory Board.
Pierpont is a graduate of the University of Utah and has received many awards and recognitions from national and international organizations for his work in the public sector. A leader in the community and state, Pierpont is respected for his focus and strategic approach to public service. He has received accolades for implementing change, leading key initiatives, establishing creative strategies for optimizing internal operations and creating positive employee morale.
A lifelong resident of Utah, Pierpont is the son of former Provo Captain of Police George Pierpont. He is an avid participant in many sporting activities and can often be found running with his dog, Brutus, and spending time with his wife and son.
USDOL UI AWARDS PRESENTED BY:
Gay Gilbert 
Administrator, USDOL, Office of Unemployment Insurance
Gay joined the U.S. Department of Labor, Employment and Training Administration (ETA) in November 2000 and currently serves as the Administrator of the Office of Unemployment Insurance overseeing the nation's federal-state Unemployment Insurance program.
Previously, Gay served as the Administrator for the Office of Workforce Investment in ETA providing federal oversight and leadership for America's workforce investment system, including employment and training programs under the Workforce Investment Act and direction and support for the nation's locally driven one-stop delivery system. She also served as the Director for ETA's Business Relations Group and headed the Employment Service. Prior to joining the U.S Department of Labor, Gay was a senior official for the State of Ohio overseeing workforce programs and unemployment insurance for over ten years.
Gay also served as Assistant City Attorney for the City of Columbus, Ohio, and eight years with the West Virginia Department of Human Services.
She has the following degrees:
 
Bachelor of Arts, Michigan State University
Master of Social Work, West Virginia University
Juris Doctor, Ohio State University